About the journal
AsiaIntervention is the official journal of the Asian-Pacific Society of Interventional Cardiology (
APSIC
) and the Interventional Cardiology Foundation of India (ICFI).
It is an international, English language, peer-reviewed journal whose aim is to create a forum of high quality research and education in the field of percutaneous and surgical cardiovascular interventions.
It is released twice a year, in paper and electronic formats.
AsiaIntervention has applied for indexation in Science Citation Index® (ISI), SciVerse Scopus, MEDLINE®/PubMed®.
Receive the latest updates
Volume 7, Number 2, December 2021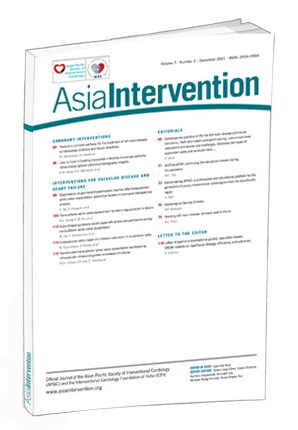 This new issue of AsiaIntervention articles include an expert review on left main disease treatments in coronary interventions; in interventions for valvular disease and heart failure: rates and predictors of pacemaker dependence after TAVI, TAVR for aortic regurgitation in Asians, a pre-shaped guidewire LV perforation in TAVI, a TEVAR in porcelain aorta and more…